Welcome to Country
---
Tropical Cyclone Ann Weather Warning
If you're travelling to the area:
Make sure someone knows where you are travelling to and your contact details
Mobile phone and GPS may not work in some areas – so check with local rangers, police regarding road conditions before you start your journey
Enough food and water in case you are isolated due to flash flooding and or wind damage
Limit travel until you know it is safe to continue
Remember if it is FLOODED Forget it!
Issued at 4:30 pm EST on Monday 13 May 2019
Cyclone Watch issued between Cape York and Port Douglas as tropical cyclone Ann moves west in the Coral Sea
Details of Tropical Cyclone Ann at 4:00 pm AEST:
Intensity: Category 1, sustained winds near the centre of 85 kilometres per hour with wind gusts to 120 kilometres per hour.
Location: within 55 kilometres of 15.5 degrees South 153.0 degrees East, estimated to be 790 kilometres east northeast of Cairns and 1070 kilometres east of Coen.
Movement: west at 24 kilometres per hour. 
Hazards:
Tropical cyclone Ann, category 1, is moving towards the west in the northern Coral Sea. Tropical cyclone Ann is expected to move to the west-northwest as a category 1 system and is likely to cross the northeast tropical coast of Queensland on Wednesday morning, most likely as a category 1 system.
GALES with gusts to 120km/h may develop about the coast and adjacent inland areas between Lockhart River and Port Douglas during Tuesday evening and may extend north to Cape York on Wednesday morning as the cyclone approaches the coast.
As the cyclone crosses/approaches the coast, a storm tide may occur between Lockhart River and Cape Tribulation. Large waves may produce minor flooding along the foreshore. People living in areas which may be affected by this flooding should take measures to protect their property as much as possible and be prepared to help their neighbours.
Areas of heavy rain, which may lead to flash flooding, are also likely to develop about the coast and ranges between about Lockhart River and Ingham during Tuesday night and are likely to persist through Wednesday.
A Flood Watch has also been issued for coastal catchments between Cooktown and Ingham.
Recommended Action:
People between Cape York and Port Douglas should consider what action they will need to take if the cyclone threat increases.
- Information is available from your local government
- For cyclone preparedness and safety advice, visit Queensland's Disaster Management Services website (www.disaster.qld.gov.au)
- For emergency assistance call the Queensland State Emergency Service (SES) on 132 500 (for assistance with storm damage, rising flood water, fallen trees on buildings or roof damage).
Next Advice:
The next advice will be issued by 11:00 pm AEST Monday 13 May.
This warning is also available through TV and Radio Broadcasts; the Bureau's website at www.bom.gov.au or call 1300 659 212. The Bureau and the State Emergency Service would appreciate this warning being broadcast regularly.
---
We acknowledge Wujal Wujal as the home of the Kuku Yalanji, Kuku Nyungul and Jalunji clans – the 'rainforest people', the traditional owners and custodians of our area. Located in a World Heritage site abundant with sacred waterfalls in the Bloomfield Valley, Wujal Wujal means 'many falls' in our local language.
Our people welcome all visitors to our area to hear our stories and learn of the history and heritage alive in our country today.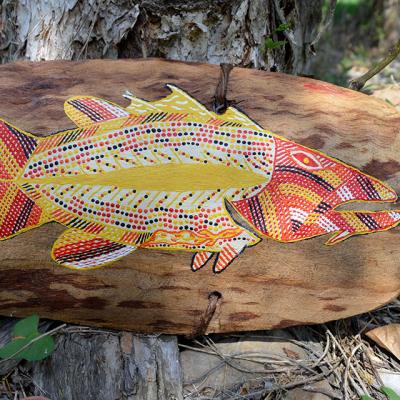 Wujal Wujal is the local Kuku-Yalanji clan name meaning 'many falls', highlighting the many sacred waterfalls in our landscape. This image also captures our multifaceted region of ranges, rivers and reef. It reflects our sparkling coastline and abundant wildlife. And most of all, our many peoples and languages. Our ancestry dates back on our traditional lands for thousands of years and our indigenous language is still spoken in the community. Our local clans are the Kuku Nyungul and Jalunji peoples and the Eastern Kuku Yalanji who have native title to the Wujal Wujal area.
Visitors – find information to help plan your visit to our lush tropical rainforest region
Residents – request a local service, check the date for next council meeting and link to other support services available
Businesses – learn about development and funding opportunities in the region
Jobseekers – find local employment opportunities
Emergency notifications for residents and travellers – register or update your details to receive advance warning of severe weather or other public safety events. 
Did you know 'yalada' means 'welcome' in our language?